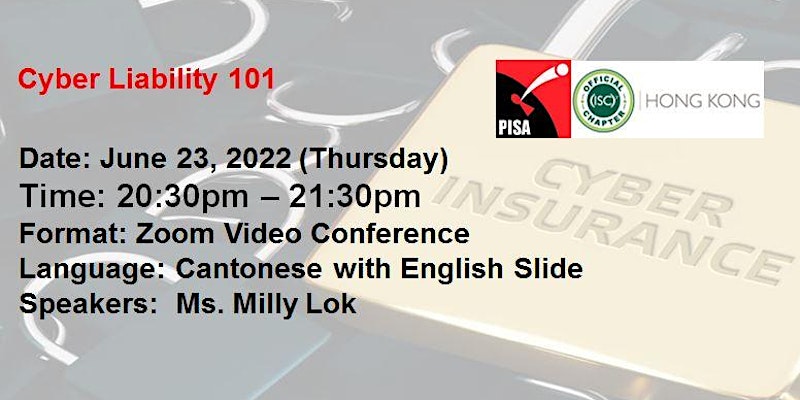 Date: 23 Jun 2022 (Thur)
Time: 8:30pm – 9:30pm
Venue: Webinar (via Zoom)
Speaker: Ms Milly Lok
Language: Cantonese, with English presentation material
Fee: Free (Pre-registration is required.)
Register: https://bit.ly/pisa220623
Highlight:
– Introduction
– Data Protection in Hong Kong
– Who has exposures?
– Top 5 Major Cyber Attacks of 2021
– Features of Coverage
– Claims Scenarios
About Speaker:
Ms Milly Lok (Business Development Manager UPS Capital)
– Over 20 Years experience after graduation from University of Toronto
– Holder of ANZIIF (The Australian and New Zealand Institute of Insurance and Finance)
– Completed the Fintech Program at University of Oxford in 2018
– Worked for a variety of international insurance companies and international brokering firms in Hong Kong and Canada
– Worked in a Fintech Start-up Brokerage before joining UPS Capital Insurance Brokers Limited
=====
The Webinar is conducted in Cantonese with English Presentation Material.
Please install Zoom software/app for your PC, Mobile or Tablet.
For the Meeting ID and Passcode, it will be sent by a separated email after the registration.

PISA and (ISC)2 HK Chapter members have higher priority to join this seminar.
One CPE can be claimed for (ISC)2 CPE for each attendance.