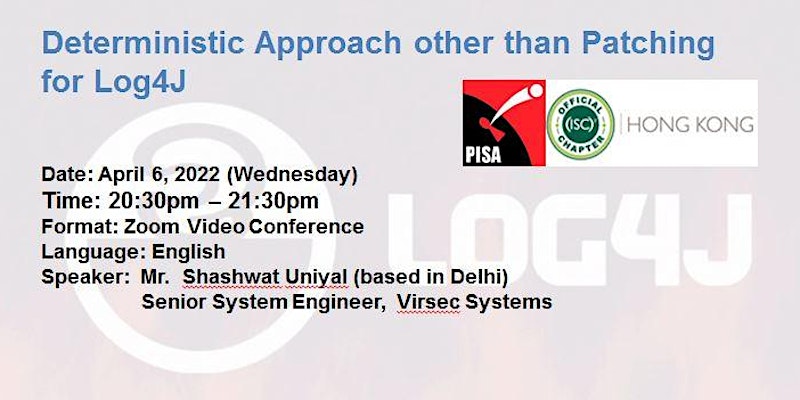 Date: 6 Apr 2022 (Wed)
Time: 8:30pm – 9:30pm
Venue: Webinar (via Zoom)
Speaker: Mr. Shashwat Uniyal, Senior System Engineer, Virsec Systems
Language: English
Fee: Free (Pre-registration is required.)
Register: https://bit.ly/pisa220406
Highlight:
– Current Cyber threat landscape and trends
– Understanding how the vulnerabilities in Software Supply Chains are exploited with Log4J
– Why did the conventional tools like EDP, EPP fail to prevent Log4J and other supply chain exploits?
– Addressing the Software supply chain vulnerabilities and memory attacks with Deterministic Protection
Background:
What is Log4Shell? Log4Shell is a software vulnerability in Apache Log4j 2, a popular Java library for logging error messages in applications. The vulnerability, published as CVE-2021-44228, enables a remote attacker to take control of a device on the internet if the device is running certain versions of Log4j 2.
Zero-day attacks have persisted for years, and they will continue to. Kaseya, NotPetya , SolarWinds, Log4J and so many other have made the headlines.
The most recent Log4J – was a massive software supply chain attack. Within the first 12 hours over 40,000 attacks were reported worldwide, rising to 830,000 after three days. Companies are still trying to determine the full extent of their data loss. The impact of the attack is widespread and may take years to address.
=====
The Webinar is conducted in English with Presentation Material.
Please install Zoom software/app for your PC, Mobile or Tablet.
For the Meeting ID and Passcode, it will be sent by a separated email after the registration.